If you're a startup owner looking to incorporate your business with CorpNet LLC service but are wondering whether it's a reliable service, this CorpNet review is for you.
Over the past few weeks, our legal team and I have tested the CorpNet LCC service to see how it works.
Also, we subscribed to their different plans to get an overview of their customer service, turnaround, pricing, and customer support.
Continue reading this CorpNet LLC review to know if you should hire this service or not.
What Is CorpNet LLC Service?
CorpNet LLC service is a medium-sized family-run company that offers its clients individual support for business development. Since its founding in 1997, the company has assisted in the formation of over 100,000 enterprises nationwide.
In all 50 states, CorpNet is a dependable source and service provider for company incorporation, LLC filings, and corporate compliance services.
Through the CorpNet Partner Program, the team simplifies the registration and compliance procedures for individuals and business entities.
Additionally, they provide 100% refunds for up to 30 days and expedited and 24-hour urgent filing services that are accessible upon request.
Service Features
This family-owned company offers three main plans for its services. Here's a detailed breakdown of each package.
Basic Plan ($79 + state fees): This cheapest LLC formation package is a little more expensive than the average entry-level packages offered by other LLC formation services. This plan includes business incorporation, compliance filing, an integrated legal alert system, and 60 days of CorpNet Registered Agent service.
Deluxe Package ($199 + state filing fees):

  The deluxe package includes all basic plan features plus an EIN acquisition for tax purposes [

1

]. Small business owners also get a complimentary statutory service for one year to handle compliance on their behalf [

2

].

Complete Package ($278 + state fees):

This complete package includes the deluxe bundle features plus a bunch of customized document templates. You can get customized document seals, an LLC kit, corporate minutes, and an operating agreement. Of all the plans we purchased, the Complete plan offered the most value for money because of the comprehensive features.
Our #1 Recommendation
CorpNet
Additional Services
The extra services offered by CorpNet include the following:
C-Corp Registration starts at $99 plus state fees

S-Corp Registration starts at $99 plus state fees

Limited Liability Partnership starts at $99 plus state fees

DBA $99

Change Registered Agent $149

Foreign Qualification $199

LLC Amendments $149

LLC Dissolution $249
Foreign Qualifications $199
initial Reports $99 plus state fees

Annual Reports $89 plus state fees

Certificate of Good Standing $69

Certified Document Copies $99

Annual Meeting Minutes $199 per entity
S-Corp Election Status $99

Reinstatements $299 plus state fees

Operating Agreement $99

Corporate Stock Certificate $25 plus state fees
Benefits of CorpNet
CorpNet offers great benefits to all its clients, including the following:
1. Smooth Creation Process
CorpNet aims to streamline the LLC formation process. We had no problems at all with the procedure.
To guarantee that you may launch your limited liability company as quickly as possible, their team of specialists swiftly files all the required documentation, including a customized operating agreement.
2. Personalized Service
One of CorpNet's key strengths is excellent customer service. The team was professional and provided courteous and thorough explanations of our queries.
Although you may have access to even more customer support choices if you are on a higher plan, the corporation offers a customer care line five days a week at the very least.
The top tier offers phone, text, and email customer assistance options around the clock.
Additionally, the organization provides a 100% service charge refund if you are dissatisfied with your purchase.
3. Decent Value
CorpNet's bundles provide a decent overall value. Although less feature-rich than the packages provided by other businesses, you still receive a 100% money-back guarantee, which not all companies offer.
Additionally, for exclusive features, you can subscribe to a higher-tier deluxe package.
4. Ease of Use
CorpNet's dashboard was simple to use, and the ordering procedure was simple. Most of the services supplied are fully explained on the website, which is clear and easy to navigate.
You are given a detailed breakdown of what each plan delivers for your money and a list of offered add-ons and associated fees.
5. Faster Turnaround
After we decided on a name for our LLC, CorpNet checked with the Secretary of State's office to see whether this name was available, and they then went ahead and prepared the paperwork and filed it within 24 hours.
Downsides of CorpNet
While CorpNet offers great service features and LLC formation, here are a few drawbacks of this online service.
CorpNet LLC pricing is expensive, and their website's pricing excludes state fees and shipping costs.
If your business is located in a state like Massachusetts, where the state fees are high, you might have to spend more business funds.
Another downside of CorpNet is that all the services on its website do not apply to non-profit organizations. If you own such a business entity, this LLC service is not a good fit for you.
Despite having its affiliate offices in 50 states, it's unfortunate that its VIP processing services are offered to only a few states.
If you want to form an LLC, inquire if expedited filing is available in your state.
Who Should Hire CorpNet LLC Service?
Any entrepreneur looking for the essentials of forming an LLC should use CorpNet LLC service.
Although their basic package is a bit pricey, it offers name searches, business registration, and document filing to get your business started.
CorpNet is also ideal for company owners who want an LLC business service with a proven track record and a 100% satisfaction guarantee system.
Other User Testimonials
"Registering my business with CorpNet has never been easier. The website has a 2-page form that was easy to fill out within minutes, and they handled my information with strict privacy."
- Mike, LA
"I loved my overall experience with CorpNet, but I was disappointed that they only offered registered agent services for 60 days, plus their lowest plan is expensive compared to other services."
- Thomas, Wisconsin
"Along with intriguing tools for my company's establishment, they provided a wide range of LLC formation services in three separate packages. Their 100% satisfaction guarantee and dependable customer service are, in my opinion, their unique selling points."
- Dan, Tennessee
"I had a lot of support setting up my firm with CorpNet. The entire process was speedy and efficient from beginning to end. The CorpNet staff kept in constant contact with me and are undoubtedly skilled in their field."
- Andrea, Virginia
Comparison To Other Companies
Here's a side-by-side comparison of CorpNet with three top LLC services on the market.
1. ZenBusiness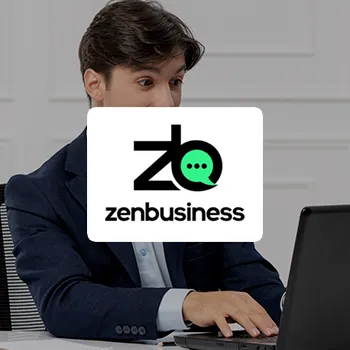 Both companies provide consultations and open pricing, but ZenBusiness aspires to be a more flexible choice for continuing legal issues for enterprises. CorpNet is a superior option for first-time business owners.
In terms of business formation, ZenBusiness offers a free basic plan that covers all formation features including free worry-compliance for first year, while CorpNet charges $79 for its lowest plan.
ZenBusiness offers customer service via phone, email, and chats like CorpNet. What sets CorpNet apart is its bilingual chat feature which enables non-English speakers to get their LLCs formed.
Both websites provide their new and returning customers with valuable materials. This includes advice on document filing, definitions of technical terms, and a valuable frequently asked questions section.
2. Northwest Registered Agent
Compared to CorpNet's $79 + state costs for starting LLC formation services, Northwest's price point is less expensive at $39 + state fees.
In contrast to CorpNet, which charges $149 for premium registered agent services, Northwest maintains its value strategy at $125.
And if you want foreign qualifications for your LLC, Northwest charges $100, while CorpNet charges almost twice that amount.
A bespoke onboarding flow is offered by Northwest and CorpNet both, although in very different ways.
Northwest offers a wide range of possibilities for the seasoned business person familiar with all the terms used in regulatory business compliance and already understands the items they want.
On the other side, CorpNet favors a streamlined 3-package strategy with extra check-boxes that only provide easy customization for solopreneurs.
3. Incfile
IncFile is one of the most respected LLC formation businesses founded in 2004. Its rise had been well merited, supported by a sound business model, competitive pricing, and a base of more than 250,000 devoted clients.
Compared to IncFile, CorpNet's package costs are more expensive than other businesses.
For instance, all three of their packages cost more than Incfile's, which is disappointing because they don't provide any additional incentives to make up for their higher rates.
With their least expensive LLC creation package, they only provide 60 days of registered agent service; with their more expensive packages, they give a year. A year of the same benefit from IncFile costs $0 plus the state service fees.
On the basic package level, Incfile turns around orders quicker than CorpNet. They both provide the option of accelerated filing as part of their premium packages.
Still, CorpNet outperforms IncFile in this regard because it completes its expedited filing in 24 hours as opposed to IncFile's 48.
FAQs
Yes, CorpNet is legitimate. This LLC formation service has been in the business for over 20 years and has helped 100,000+ businesses. There are also numerous online reviews from satisfied clients that back up their legitimacy.
Does CorpNet Have a Refund Policy?
Yes, CorpNet has a 100% refund policy. If you're dissatisfied with any of their service features, you can request a refund while stating the reason for it. CorpNet promises to refund your money with no questions asked.
Should You Hire CorpNet Service?
Any business owner seeking an LLC creation service with positive client reviews can choose CorpNet.
However, because it excludes certain features that rivals provide in their least expensive LLC formation service package, the Basic package isn't a good bargain.
Additionally, the hefty service fees in the other packages are not merited by the add-ons offered.
This is why ZenBusiness is a better choice for your business. For starters, it offers free LLC formation services in its basic package, next to free trial month of banking, bank account, and Money Pro Bookkeeping.
In addition to affordable packages, ZenBusiness also offers exclusive website features with dependable legal services.
Additionally, ZenBusiness offers extended customer service hours, so you can be sure that any issues you have will be resolved as soon as possible.
A 60-day money-back guarantee is another great feature of this LLC service if you're unhappy with your chosen bundle.
Our #1 Recommendation
ZenBusiness
Pros
Different formation plans
Speedy formation procedure
Pocket-friendly bundles
Smooth compliance filing
Stong online reviews
Get the BEST PRICE until the end of October
Cons
Non-profit business formation is unavailable