How To Address A Letter To A Registered Agent (Explained)
If you're a business owner who wants to make specific demands to your registered agent and is wondering how to address the official letter to the agent, you've come to the right place.
We teamed up with our legal specialists with over a decade of experience in the industry and researched the details and format of an official letter addressing a registered agent service.
Continue reading for some great pointers on correctly addressing a letter to a registered office/agent.
Quick Summary
To address a letter to a registered agent, you must include the correct company/individual agent's name and physical address.
You can attach supporting documents as proof of your claim or demand.
You can re-send a follow-up letter if you don't get a response from the first letter.
Addressing the Envelope

Here's how to address the envelope of your official letter to your registered agent:
Include your return address and contact information in the top left corner [1].
This includes your:
Name
Company name
Mailing address
Include the recipient's address information.
If you're addressing an individual, write their title, name, and mailing address.
If you're addressing a company, write the company's name, abbreviation, and mailing address.
Addressing the Letter to Your Registered Agent

An official letter addressed to a LLC registered agent or corporation registered agent has specific sections that you must include.
These sections include the following:
1. Date
Include the date of writing on the top right corner of the page.
2. Address
In the address section, you want to provide the registered agent's office/street or residential address.
If you're using a commercial registered agent, you'll write their office or street address which should include the following:
Company name
Principal Office Address
City, State, Zip
If your registered agent is an individual, the address will have either a registered office or a residential address. Also, you'll include the agent's legal name.
3. Reference
In the reference section, you must briefly describe the subject of your letter.
For example, if you need to request a refund, then your reference section will be:
RE: Request For Refund
4. Body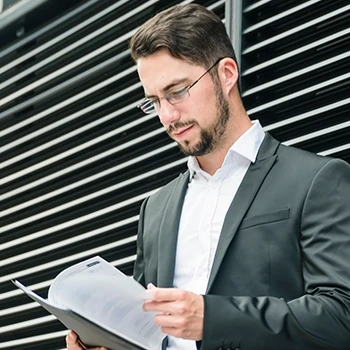 The body of the letter contains all the specific details of your demand [2].
Under this section, you should use an official tone because it's a business letter.
It's best to be respectful and formal in addressing the agent and articulating your demands.
Start by introducing your position and the company.
For example:
"I am writing this letter to you as the manager of Demou Limited Liability Company."
This brief introduction gives the registered agent a direct idea of who you are and your firm.
The next step in writing the body of your letter is to state the facts of your issue briefly. It would be best to be specific about dates, prices, and services. At this point, you have attached any contracts, receipts, or files for added proof.
After describing your issue, demand what you'd like the registered agent to do. It could be you want them to fix or correct something, refund your cash, or take other paths to solve the issue.
Remember to include a specific timeframe or deadline to work with. This will let the person know if it's a priority or not.
If you want your issue handled thoughtfully, you could indicate that failure to meet the deadline could result in you taking legal action. But this depends on the severity of the problem you're facing.
5. Official Signature
After concluding the letter, you have to sign off.
On the bottom right of the letter, including your:
Full name
Permanent mailing address
City
State
Zip code
You can distinguish this conclusion using a different color ink from the original letter (blue or red).
Tips For Sending the Letter

Here are a few tips you can keep in mind when addressing a letter to your registered agent service.
Remember that before submitting the letter, you should ensure everything is correct, and you can also attach supporting contracts or documents if need be.
It's advisable to print two copies of the letter to mail one and retain the copy.
If you're sending through the post office's regular mail service, ensure you get a certified mail receipt and staple it to your copy. The post office is a cost-effective way to send a letter.
Once your agent receives the letter, you'll get a return receipt to prove that the letter was accepted on a specific date. Attach this to your copy as well.
Once you receive the return receipt, you can start waiting for the response from your registered agent.
If your demands aren't properly served, and you don't get the response within your schedule, feel free to write a follow-up letter, or you can seek legal options, including court summons if it's a crucial issue.
Related articles:
FAQs
How Do You Address a Registered Agent Organization in a Letter?
You address a registered agent organization in a letter by including the company name/principal place of business, company abbreviation, department name, and then the company mailing address.
How Do You Address a Business Letter to a Specific Registered Agent?
You address a business letter to a specific registered agent by including their recipient's title and full name, the business name, and the business mailing address.
Do You Need A Professional Service For Your Business?
Sending a letter to a legal service is a formal way to make specific demands for your limited liability company.
If you're looking for a reliable statutory service for your business, check out our list of the best registered agent services you can hire.
These registered agents will handle everything, from formation to ongoing compliance, accepting service of process, and helping you negotiate the red tape.
Their team of legal professionals in business formation can also handle various tasks, including drafting a certificate of formation, your LLC agreement, and filing the required legal papers with the Secretary of State.
---
References:
https://www.luther.edu/offices/mail-center/addressing-envelopes-packages

https://deanofstudents.utexas.edu/lss/downloads/DemandLetterHowTo.pdf