IncFile has been a big name in the formation industry for almost twenty years. It is utilized by more than a million business owners and entrepreneurs across all states.
As an expert in the field of business formation, I have collaborated, consulted and utilized online service providers. After personally registering with IncFile, I'll provide a comprehensive review that covers all the services they offer, benefits, fees and comparison to other companies.
Here's an honest IncFile review before you decide if they're worth hiring.
What Is IncFile?
IncFile is a low-cost LLC service that has over 500,000 customers. IncFile was founded in 2004, and today, they handle LLC formation, compliance, and filing by using advanced technology to simplify the business formation process.
IncFile doesn't charge anything for its basic package but offers several packages. They can help with business accounting services, forming a business bank account, business tax consultation, and more.
IncFile has consistently evolved to adopt the most recent technologies to simplify and digitize the LLC formation process.
Service Features and Prices
Silver LLC Formation Package ($0 Plus State Fees):

Includes all the business formation features like unlimited LLC name availability search, filing the Articles of Organization, free registered agent service, and a Statement of Organizer. 

Gold LLC Formation Package ($199 Plus State Fees):

The Gold package includes everything from the previous package and an EIN, an operating agreement, unlimited phone support, a business tax consultation, a banking resolution, IRS form 2553, online access dashboard, a business bank accounts, and lifetime company alerts.

Platinum LLC Formation Package ($299 Plus State Fees):

The Platinum package includes everything from the previous two packages and business contract templates, expedited filing services, a business website, a business domain name, and a business email.

Registered agent services ($119/year):

Users receive a free year when they utilize one of Incfile's plans to register their firm. To continue using the service beyond the first year, consumers must pay $119 annually. 
C-Corp Formation $0 + state fees

S-Corp Formation $0 + state fees

Nonprofit Formation $0 + state fees

Company Name Change $99 + state fees

Amendment $99 + state fees

S-corp Tax Election $50

Annual Report $99
EIN Services $70
Virtual Address Services $29/month
Certificate of Good Standing $49 + state fees

Foreign Qualification $149 + state fees 

DBA Name $25 - $100
Change of Registered Agent $49 + state fees

Business License $99

Trademark Registration $199 + state fees

Company Dissolution $149 + state fees
Benefits
Here are the benefits you can expect from working with IncFile.
1. Budget Friendly
With plans starting at $0, IncFile is one of the few companies offering a free LLC formation service.
They also have reasonable prices on other essential services like their registered agent service, free for the first year.
In our opinion, you can't get much more budget-friendly than free. Of course, you must pay the state filing fee, which varies based on the state.
2. Fast Turnaround Time
No matter which package you choose, your business documents are typically sent to the state within one business day, and you don't have to pay extra.
Their website also offers a tool that shows how long states take to process your application, so you know how long to expect. The tool also provides the price of expedited filing for each state [1].
We found the one-business-day turnaround to be accurate.
3. Online Access Dashboard
There are a lot of formation documents to file with different agencies that all have different timelines. All these documents can be a lot to keep track of for anyone.
Based on my experience, IncFile's online dashboard stands out when compared to other service providers. The special feature efficiently stores all submitted documents and allows online access to your business papers. You can also monitor the status of orders and deadlines in real time.
Their dashboard also sends text and email notifications with order updates and lifetime company alerts for compliance.
We found this online dashboard invaluable in the business formation process.
4. Ease Of Use
IncFile has an easy interface that most users find simple. Their free LLC business formation service takes only a few minutes with basic information about your business. IncFile's website populates prices based on the state you are filing in.
Ordering additional services is also relatively easy, and IncFile provides write-ups to explain all of these services and their benefits.
We found that the LLC process and website were straightforward.
5. Free Resources and Tools
IncFile also offers several useful free tools for small company owners and new businesses. After personally taking the business entity quiz and using the state guides, my business knowledge was considerably enhanced.
Apart from free tax consultation and a guide on how to start a business, they also offer calculators for taxes, annual report due date and payroll tax.
In our opinion, these free tools are a great added benefit to the services that IncFile offers.
6. Experience
IncFile was instrumental in the formation of over a million businesses with their LLC services and has remained in the industry for a notable time. In my years as a business consultant, I've seen service companies come and go, but IncFile has been around since 2004 – a testament to their longevity and reliability.
Their experienced customer support staff knows how to answer your questions and take you through the formation process step by step.
7. Bookkeeping Services
Incfile users may use company bookkeeping and accounting services for a reasonable monthly fee.
Users are given access to monthly reports, accounting software, and a professional bookkeeper who is certified to work with them.
A small business accountant is available if you require legal or tax advice.
8. Affordable Business License Research
The IncFile business license search is another helpful addition. This service costs $99 through IncFile. They will investigate the relevant legislation in your state and determine which licenses and permissions your company would require to operate.
Your firm risks fines or closure if the necessary permits are not obtained. Several rivals provide this service, although they often charge more than $99 for it.
This makes the business license search offered by IncFile a terrific deal.
Swift Mail Forwarding
Nowadays, most services will provide you with a digital copy of any legal papers they get on your behalf rather than giving you the actual hard copies. IncFile is the same.
Documents from your company will be scanned and uploaded to your dashboard. An email notice will be sent to you each time a new copy is added to your dashboard.
Downsides
1. Pricey Add-ons
While some of their add-ons, such as resident agent services, have reasonable prices, others are outrageous. For instance, the cost of filing articles of amendment, annual reports, and dissolution papers separately with Incfile is over $95 each. We recommend selecting your add-ons carefully because these costs can easily mount up when combined.
2. Limited Web Assistance
Incfile offers extremely few features to assist customers in creating company websites and improving search engine optimization (SEO), in contrast to other platforms for business creation.
Other rivals provide marketing plans with a web developer to assist clients in enhancing their internet presence. If you consider this vital, be prepared to hire outside help for web development or select a different solution for business creation.
3. Limited Basic Package
Even though the Silver plan costs $0, it lacks some key features that are beneficial to startups.
Some of these features include EIN, operating agreement, online dashboard access, company alerts, tax consultation, and expedited filing.
Who Should Hire IncFile?
New business owners who are looking for a budget-friendly option to form an LLC should hire IncFile.
If you want to form an LLC and don't need all the bells and whistles, IncFile's silver package is ideal since it already offers essential documents like the operating agreement.
IncFile is excellent for a business of any size, mainly because they offer a year of premium registered agent service for free.
Their other packages are also reasonably affordable for the features that are offered.
IncFile Customer Testimonials
"The experience was effortless and straightforward. I've yet to receive my LLC via email, as I filed about 30 seconds ago. But assuming that it actually comes, I'd recommend this site to anyone."
- Ray Barham, Trustpilot
"I love how quick IncFile's response was. I wasn't on hold for more than 3 minutes. I immediately spoke to a great representative named Cassandra C, and with her great experience should found what I needed in less than a minute. Thanks, IncFile. Highly recommend"
- Deighton M, Better Business Bureau
"IncFile filing for my LLC was fast and easy. I had many technical issues with my email, but their rep Peter P was outstanding. He was with me every step to resolve everything. He knew every answer, set me up on the back end for a few things I tried, and was always so patient and quick to answer. Peter made my experience great. Thank you so much for getting me all set up!"
- Jillian G, Better Business Bureau
"The process of creating my LLC with IncFile was very easy. They took me to step by step through from start to finish, and I was even given an opportunity to review my order and place my order on hold before it was filed with the state. This was a much-needed opportunity. I would not hesitate to use them again."
- Michael Baity, Trustpilot
IncFile Alternatives
Here's how IncFile compares to some of its competitors.
1. ZenBusiness
If you're looking into business entity creation, both IncFile and ZenBusiness can help you form your future business for a meager cost and fast turnaround.
ZenBusiness has some of the best prices in the industry, but IncFile is known for its free services. However, ZenBusiness offers many free trial periods for different services such as banking and bookkeeping.
Compared to ZenBusiness, IncFile has a more significant amount of experience in the industry.
IncFile's website and checkout process are also a bit more user-friendly and less confusing than ZenBusiness's website.
While ZenBusiness and Incfile do not provide legal advice, they provide the essential services required to create a new company organization.
For company owners looking to make the most of their workweek and take care of problems during slower times, ZenBusiness has the advantage, thanks to customer service hours that go into the weekend.
Want to dig deeper into this organization? Our ZenBusiness review provides an in-depth analysis.
2. Northwest Registered Agent
Northwest and IncFile are both easy ways to form an LLC. IncFile's services are an automatic win over Northwest with their $0 pricing.
IncFile's features and Northwest's features are comparable, however. IncFile has more reviews than Northwest at around 10,000, most of which are positive.
Between the two, IncFile's fee for renewing the registered agent after the first year is lower than Northwest's fee.
Onboarding for IncFile customers is simple to complete, and the packages are listed. Onboarding for Northwest is a little more difficult as they make you go through many services in a list which can be overwhelming.
3. Rocket Lawyer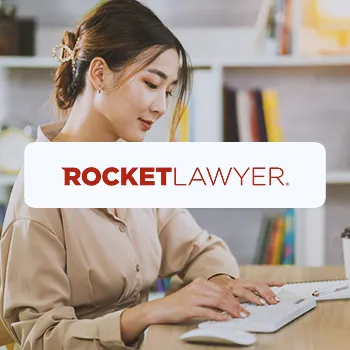 Although both Rocket Lawyer and IncFile have excellent reputations for service, there are some significant differences between the two.
Rocket Lawyer is a legal services website that doesn't offer packages but an a la carte menu, which can get expensive quickly.
Rocket Lawyer charges $99 plus the state fee to form an LLC, so when you compare the two, IncFile can save you some serious cash.
Also, when you compare the LLC packages, Rocket Lawyer's core services are fundamental for an LLC package.
You also have to pay extra for registered agents for Rocket Lawyer, and the free service is included in IncFile's packages for the first year.
FAQs
IncFile Vs. Legal Zoom, Which Is Better?
IncFile is the better service when compared to Legal Zoom because Legal Zoom costs more for formation services and doesn't include registered agents. The main benefit of Legal Zoom over IncFile is that they can offer legal advice, but if that isn't something you need for your business, IncFile is the way to go.
Does IncFile Charge A Monthly Fee?
IncFile doesn't charge a monthly fee. With the base package, you only pay state filing fees to start your LLC.
Is IncFile A Good Way To Start An LLC?
IncFile is a good way to start an LLC. They offer free basic business formation services, compliance reminders, free registered agent service, and online access to business forms.
Is IncFile A Good Registered Agent Service Provider?
IncFile is a good registered agent service provider, which is confirmed by its excellent customer feedback. They also provide the lowest cost to form an LLC.
Does IncFile Offer A Employer Identification Number?
IncFile offers an employer identification number for free as part of the gold and platinum plans. It isn't offered in the basic package but can be purchased as an add-on.
Is IncFile A Secure Website?
IncFile is a secure website. It is just as safe as any other web-based LLC formation service.
Yes, IncFile is legitimate. Incfile has been in the business formation industry for almost twenty years, with over a million satisfied clients.
Should You Hire IncFile?
Starting a new business venture without knowing the LLC formation process can be overwhelming. Outsourcing the formation of your limited liability company can provide you with expert knowledge.
Based on our experience, IncFile seems like a perfect fit for any type of business you need to form. IncFile provides the most cost-effective service for forming limited liability companies through their online dashboard, easy-to-use website, simple and quick ordering process, and customer support.
Their prices are truly unmatched, and the features offered for the price make them one of the best LLC services on the market for any budget.
Our #1 Recommendation
Incfile
Pros
Unlimited support
Fast turnaround time
Easy to use
No hidden fees
Get the BEST PRICE until the end of October