How To Change an LLC Name in California? (Step by Step Guide)
Whether rebranding or seeking a more suitable name, changing your LLC's name in California as a business owner can be challenging.
After years of experience as a seasoned business consultant in California, I've encountered numerous clients seeking to change their LLC names for various reasons - from rebranding to better market positioning.
Having spent countless hours researching California's legal procedures and consulting with experts in business law, I've compiled this step-by-step guide to help you confidently navigate the name change process.
This comprehensive guide will ensure a smooth and successful LLC name change, from meeting the requirements to filing the necessary paperwork.
Quick Summary
To change an LLC name in California, check name availability, update internal documents, file LLC-2 form, update tax ID and business accounts, and notify stakeholders
Changing an LLC name in California takes 3 to 4 weeks and involves filing an Articles of Amendment with a fee of approximately $30
Seek professional assistance for a smooth name change process
---
---
Steps to Change an LLC Name in California
To change an LLC name in California, follow these steps:
1. Check Name Availability
The first step to initiate the LLC name change process in California is conducting a name search with the California Secretary of State [1]. This can be done through the California Business Search tool on their official website.
To name your LLC, verify if the desired name for the LLC is unique and not already in use by any other business entity registered with the state.
It's essential to ensure the new name is distinguishable from existing names to avoid conflicts and rejections during the filing process.
The names must comply with the state's guidelines, prohibiting certain terms or requiring specific designations for certain business activities.
2. Update LLC Operating Agreement and Internal Documents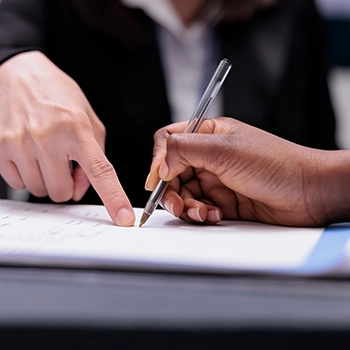 Before proceeding with the California business name change, notify all LLC members and obtain their agreement on the new name. Unanimous consent among members is necessary to avoid potential disputes later.
Amend the LLC operating agreement to reflect the name change. Update all instances of the old name with the new one throughout the agreement and ensure it accurately reflects the revised information of the limited liability company.
Review and update other internal documents, contracts, and agreements, such as member resolutions, contracts with suppliers, or any other legal documents that refer to the previous California LLC name.
3. Prepare The California LLC Certificate Amendment
Prepare the necessary documents for the name change, typically including the Articles of Amendment.
This document should include the new name, the LLC's original name, and the date the LLC members approved the name change.
This will have several legal elements, and just as with any legal procedure, there are crucial and unimportant factors in the legislation.
The minor and major parts of the legal paperwork and procedure are essential, so it's critical to hire a professional who knows all of the ins and outs of the law.
However, there are a few fundamental concepts that you, as the business owner, should be aware of so you can plan your journey.
File the Form LLC-2 with the California Secretary of State
California requires business owners who wish to alter their LLC name to give notice within 30 days of the change. This may be done by filing an amendment to articles of organization.
The modification form LLC-2 or the California LLC Certificate of Amendment to LLC Articles of Organization can be obtained from the Secretary of State's website [2]. Fill out the forms and print them after downloading them.
When completing the form, you must include your LLC's file number provided to you by the California Secretary of State in Part 1 of the form.
Double-check your LLC's file number because some old numbers have been modified.
For more information, visit the state business filings Unit or the California Secretary of State's website [3].
Fill In Your LLC's Current Name
In the next section, fill in the California Limited Liability Company name. When these articles of organization were originally submitted to the state, they must have included the company's current name.
Don't remove any significant details or abbreviate the California LLC name.
Fill in Your Proposed LLC Name
In section 3a, you'll record the business name you want to use for your limited liability company. This name must adhere to the requirements for LLC names in California.
Change your LLC name by going to the person's profile page, clicking on their username in the upper right corner, and then clicking on "Change Name".
In section 6, type the name of the person who is submitting the document. The document must be signed by at least one manager of the LLC.
Include a return address if you want a copy of this form and a $30 processing fee for routine processing.
If you conduct business under a name other than the LLC's legal name, you must submit an updated business name statement with the county.
4. Filing Form LLC-12 or Statement of Information
The LLC-12 or Statement of Information (SOI) is a form the state uses to keep track of basic information about your limited liability company.
This includes legal documents that showcase your addresses, representatives, members, and managers.
5. Update Tax ID (EIN), Business Licenses, and Permits
Inform the Internal Revenue Service (IRS) about the California LLC name change and update the LLC's Employer Identification Number (EIN). This can be done by completing Form SS-4 and submitting it to the IRS [4].
Notify the California Franchise Tax Board about the name change and update the state tax ID as necessary. Compliance with state tax regulations is crucial to ensure smooth operations.
6. Update Business Bank Accounts and Financial Institutions
Notify the bank where the limited liability company holds its business accounts and provide proof of the California LLC name change, such as the filed Articles of Amendment. Request the bank to update their records accordingly.
Update business checks, credit cards, and other financial documents with the new LLC name to ensure seamless financial transactions.
7. Notify Customers, Suppliers, and Business Partners
Inform customers and clients about the name change through official communications, such as email newsletters or announcements on the company website.
Notify suppliers, vendors, and business partners about the business name change to avoid confusion in business dealings. Update existing contracts or agreements as necessary to reflect the new LLC name.
Update marketing materials, website, and online presence with the new business name to maintain brand consistency and clarity.
Related Articles:
Reasons To Legally Change Your Business Name
You may legally choose to change your business's name for several reasons. Here are a few common reasons:
Adding Products Or Services Since You First Started Your Business
You may change your products or services, or both over time. Finally, figuring out who you are and what you can provide is a long process; as a result, now that you're here, you want to represent that by changing your company name.
Your LLC's Name Is Too General For Potential Customers
This is the mistake of specialists who want to focus on just one service or field. If you're a marketing consulting business, for example, your LLC name might make that clear. Don't make it difficult for your clients to guess and picture what you do.
Legal or Trademark Issues with the Current Name
Sometimes, legal or trademark issues may arise with the current LLC name. A name change may be necessary to avoid potential disputes and infringement claims.
Other reasons to change your LLC's name would include:
Avoid being associated with something negative or illegal
Your LLC name is outdated
Your LLC name consists of partners' names that have passed away
The name of your LLC is difficult to recall, spell, pronounce
FAQs
How Long Does It Take to Change a Company Name in California?
It takes 3 to 4 weeks to change a company name in California. The process involves submitting the necessary paperwork to the Secretary of State and awaiting approval. Completing the required forms, such as the Articles of Amendment, is essential for a smooth and legitimate name change.
How Much Does It Cost to Change a Business Name in California?
It costs a filing fee of approximately $30 to change a business name in California. The process involves submitting the necessary forms and paperwork to the Secretary of State's office. The fee covers the administrative costs associated with the name change request.
Why Do You Need to File the Statement of Information Before Changing the Name of the LLC in California?
You need to file the Statement of Information before changing the name of the LLC in California because it ensures that all essential information about the company is up-to-date and accurate. The process involves providing key details such as the current business name, contact information, and registered agent.
What Is a Fictitious Business Name in California?
A Fictitious Business Name in California is a registration required for businesses operating under a name different from their legal name. It helps identify the owner and ensures transparency in commercial transactions, offering legal protection and public awareness of business identities.
California LLC Name Change
Changing the name of your LLC in California involves a formal process. To proceed, you must file the LLC-12 to Articles of Organization with the Secretary of State. You'll also pay a $30 processing fee.
Ensure the new name adheres to the state's guidelines and is distinguishable from existing business entities. Additionally, update all relevant legal documents, business licenses, and permits to reflect the new name.
Seeking assistance from a professional formation service like IncFile helps navigate the complexities of the name change process smoothly.
---
References:
https://www.sos.ca.gov/business-programs/business-entities/name-reservations
https://www.sec.gov/Archives/edgar/data/1941829/000194182922000004/statement_of_information.pdf
http://www.sos.ca.gov/
https://www.irs.gov/forms-pubs/about-form-ss-4