The Limited Liability Company (LLC) formation process is relatively fast and easy, thanks to the state's streamlined registration process.
After extensive research and consultations with legal experts, I delved into the process of forming an LLC in California to provide you with accurate and up-to-date information.
Having spent countless hours studying the legal requirements and procedures, I aim to offer you a comprehensive guide on the timeline involved in establishing the business entity in California.
In this article, I'll deeply dive into the time and process of forming an LLC in California.
Quick Summary
It typically takes 1 to 3 weeks to form an LLC in California, with online filing being the fastest option, taking around 8 working days
The formation process involves preparing the operating agreement, filing the Articles of Organization, and submitting the Initial Statement of Information
Expedited filing options are available for an additional fee, but California does not offer expedited processing specifically for LLC formation, even for a foreign LLC
---
---
How Long Does it Take to Form an LLC in California?
Forming an LLC in California typically takes 1 to 3 weeks, depending on the formation method.
The process can be completed within 8 working days when forming an LLC online, providing a faster option.
However, if you choose other LLC formation methods, such as paper filing or using an attorney, it may take up to 3 weeks to complete the process.
It's important to note that these timeframes are approximate and can vary based on individual circumstances.
To ensure a smooth, efficient process and good standing, it is advisable to carefully follow the necessary steps and requirements outlined by the Secretary of State.
California LLC Approval Timeline
The California LLC approval timeline is determined by various factors, including:
The limited liability company approval process begins when you file your Articles of Organization with the Secretary of State. The approval timeline takes approximately 3 weeks.
However, because there are so many business filings towards the end of the fiscal and calendar years, the processing period for all requests takes longer [1].
Once the state approves your LLC, they will send you a notice of LLC approval. This notice is typically sent via email, but it can also be sent by mail or fax.
California LLC Approval Process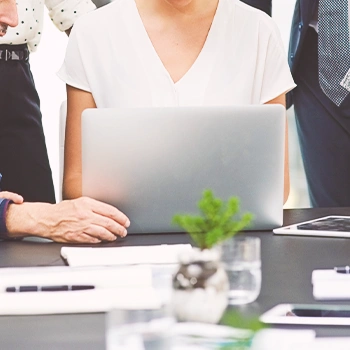 The California approval process covers the review and processing by the California Secretary of State and any transit time. This is what determines the LLC approval time.
The Secretary of State offers two options for filing LLC Articles of Organization. You can either choose to register online by mail or by drop-service. Once your LLC is approved, the state sends back your approved documents electronically or by mail.
To form an LLC in California, LLC owners must pay two filing fees: 
$70 for the articles of organization filed online or by mail and
$20 for the Statement of Information, Form LLC-12
Both payments are due to the Secretary of State.
California LLC Approval Of Mail Filings
In most cases, the California LLC email-based approval process can take 2 to 3 weeks without expedited processing. It includes the Secretary of State's 3 to 5 business days of review and processing time. Plus, the time when your documents arrived at your address.
Can I Drop Off My LLC Articles Of Organization At The Secretary Of State's Regional Office?
You can drop off your LLC Articles of Organization at the Secretary of State's regional office.
This is only allowed during regular business hours at Sacramento and California Regional offices [2]. They are subject to an additional $15 counter-drop-off fee.
Dropped-off documents will receive priority processing over mail-in filings, except during State holidays.
California LLC Approval Of Online Filings
The California LLC online filing process is easy and efficient, with approvals taking 3-5 business days. You can download your documents as soon as it is approved, so there's no need to wait for an additional transit time from the Secretary of State.
If a faster response time is needed for a filing request, the Secretary of State now provides expedited filing services [3]. The service includes 24-hour Expedite and Same Day Expedite.
Does California Expedite LLC?
California does not expedite processing specifically for forming Limited Liability Companies.
Expedited in-person LLC filings are temporarily suspended as of writing.
However, there are two online expedited filing options available from the California Secretary of State:
24–Hour Filing Service (Class C)
This expedited filing option is only available online and charges a $350.00 filing fee. Online filing responses are guaranteed within 24 hours [4].
Same-Day Filing Service (Class B)
This expedited filing option is only available online and charges a $750.00 filing fee. Responses to online filings are guaranteed by 4:00 p.m. the same day, provided the document is received online by the California Secretary of State by 9:30 a.m.
Why Form an LLC in California?
Forming a California LLC offers several advantages that will greatly benefit LLC members, such as flexibility and tax savings while providing limited liability protection.
Limited partnerships are another option, allowing individuals to join forces while maintaining liability protection.
California has a business-friendly environment and robust legal framework. This makes it ideal for forming an LLC or limited partnership compared to other states.
But, the main benefits of forming an LLC are personal liability protection and taxation. Find out the reason below:
Personal Liability Protection
When starting a business in California, personal liability protection is a must.
One key advantage of a limited liability company business structure is that it provides the members with personal liability protection, which prevents their personal assets from being collected for company debts or other financial obligations.
Protection of personal assets, like homes, automobiles, and bank accounts, is enough reason to consider California LLCs in the first place. After all, the LLC will have its own LLC business bank account.
Pass-Through Taxation
Corporations in California are subjected to pay taxes once to the corporation at its corporate tax rate and once to its owners. Because corporations are taxed twice in California, it is best to form an LLC as a business entity if you are starting a small business.
Like most California LLCs, pass-through entities are subject to pass-through taxation, meaning that profits and losses are passed through to the owners, who pay taxes at their personal tax rates.
However, it is crucial to remember that the LLC members will only be able to benefit from pass-through taxes if they do not elect to have the LLC taxed as a C corporation.
Learn more about how to file LLC taxes in California.
Related Articles:
FAQs
What Is the Fastest Way to Form an LLC in California?
The fastest way to form an LLC in California is through a streamlined online registration process offered by the California Secretary of State website.
Additionally, professional assistance from a registered agent experienced in forming a California LLC can expedite the process further by ensuring the accurate and timely submission of required documents.
Can a Registered Agent Expedite the Process of Forming an LLC in California?
A registered agent can expedite forming an LLC in California by ensuring efficient communication and compliance with legal requirements.
They act as a designated representative, receiving important documents and notifications on behalf of the LLC.
This streamlines the process, minimizing delays and ensuring the timely handling of critical paperwork.
The Timeline for Forming California LLC
Forming an LLC in California typically requires several steps and processes, just like in most states. The timeframe for establishing an LLC can vary depending on various factors.
Generally, it involves submitting necessary documents, such as the Articles of Organization, to the California Secretary of State's office.
Processing times for forming LLC can range from a few days to several weeks.
It is advisable to consult with professional LLC formation services in California or legal experts familiar with California's specific requirements and regulations.
They can provide accurate guidance tailored to your circumstances, ensuring a smooth and legitimate process of forming an LLC.
---
References:
https://www.sos.ca.gov/business-programs/business-entities/processing-dates
https://www.sos.ca.gov/business-programs/business-entities/special-handling-services
https://bizfileonline.sos.ca.gov/
https://www.sos.ca.gov/business-programs/business-entities/service-options