The Application for Employer Identification Number (Form SS-4) is a form that must be completed to apply for a federal tax identification number, commonly known as an employer identification number (EIN).
What is an EIN?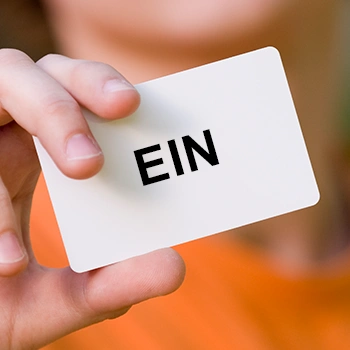 An EIN is a nine-digit tax ID number that is given to businesses by the Internal Revenue Service (IRS) for tax filing and reporting purposes.
You may need to provide your business with a federal tax identification number for various reasons, including legal requirements, establishing a line of credit at a bank, and opening an account at a financial institution.
All businesses are required to have one EIN in order to file taxes or open accounts at most banks and other financial institutions.
If you do not have an EIN, you can obtain one by filing IRS Form SS-4. The application has just 14 questions that are easy to follow along with, but it may take some time since the form is extensive in scope.
What is Form SS-4?
Form SS4 is an application for the issuance of a taxpayer identification number (TIN) under the Individual Tax Identification Number (ITIN) Program.
The ITIN, which is also known as "ad hoc tax ID" or simply "Tax ID," allows individuals to file income taxes without having a USA social security number or any other USA taxpayer ID.
Taxpayers with ITIN do not have to file a federal income tax return if the income they earn is below their thresholds for filing, but they can still file an Information Return (Form 1040NR) in order to claim a refund on withheld taxes.
Form SS4 is usually filed by foreign workers who are employed in the USA and earned wages in excess of their thresholds for filing federal income taxes.
Also, non-resident aliens who received scholarships and grants that were not reported on the W-2 form or 1042-S scholarship can file SS4 to get a TIN so as to claim tax refunds.
Form SS4 is also filed by those people who are hired by US employers on a contract basis.
These people are paid for an assignment that is completed, not for hours worked on the job, and they may receive all or part of their pay while working abroad.
When to File Form SS4?
Companies hiring employees under these circumstances are required to file Form W-2c (Corrected Wage and Tax Statement) and to obtain a TIN for the individual from the IRS before paying wages/salary to that person.
Form W-2c should be filed with the Social Security Administration (SSA) as soon as possible, but no later than January 31st of the year following the calendar year in which wages were paid.
In order to comply with the SS4 requirement, the W-2c filing deadline should be met.
Form SS4 can be filed throughout the year (not only at the end of the tax year) by taxpayers who need a TIN but are not yet employed or whose employment has ended. For example, employees hired late in 2012 will file Form SS-4 in 2013.
Fill out the SS4 Form for LLC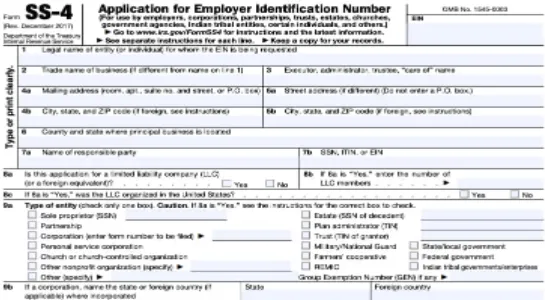 Form SS4 requires 10 pieces of information:
Line 1. The legal name of the entity (or individual) for whom the EIN is being requested
Ensure that the name you've chosen for your business is correct and looks similar on this line as it does on your Articles of Organization.
Line 2. Trade name of the business
Fill out the LLC business name or "doing business as" (DBA) name of the LLC if it operates under a different name.
Line 3. Executor, administrator, trustee, "care of" name
Put the full name of a person authorized to handle the company's legal issues (first, middle, and last) in this slot. If you use a third party to manage the business' affairs, that person's name should go here.
Lines 4a–b. Mailing address
Enter the business address to which mail will be delivered. This should generally be the same address as used for the company's tax returns.
Lines 5a–b. Street address
If the company has a physical address (not its mailing address) that differs from those in lines 4a–b, fill it in. If the business's physical and mailing addresses are identical, leave lines 5a–b blank.)
Line 6. County and state where the principal business is located
Fill in the business country and state.
Lines 7a–b. Name of the responsible party
Enter the business's responsible party's complete name (including the first name, middle initial, and last name) and SSN, ITIN, or EIN.
The IRS states that the responsible party is the individual that controls the entity.
The individual designated as the responsible party is the one who must sign Form SS-4.
Lines 8a–c. Limited Liability Company (LLC) information
If your firm is an LLC, you must fill in these blanks with additional information about the company, such as the number of members.
Line 9a. Type of business entity
Fill out this form and check only the box that describes the sort of entity your company is.
If you're operating an LLC, be careful to check the correct box (for example, Sole Proprietorship, Partnership, S Corporation, or Personal Service Corporation).
Filling in this Form SS-4 does not constitute a tax classification election for your LLC.
Line 10. Reason for applying
What is the primary reason for you to apply for an EIN? Have you just started a new business, are you looking to hire people for the first time, did you buy an established firm or other reasons, etc.? Provide some explanation next to each checkbox.
Aside from these, there are several other lines of information you'll need to submit if they're relevant to your company, such as your anticipated employment tax liability, the number of workers you expect (if you have employees), the main activity of your business, the primary line of goods/services offered, and a special place where you can designate a Third-Party Designee to assist you with the SS-4 application process.
FAQs
Can I Use My Personal Ein for My Single Member LLC?
Generally, a sole proprietor can use their own taxpayer identification number for the business.
The IRS will not allow you to use your SSN, although it is possible to obtain an EIN using an ITIN.
In some cases where the owner cannot be identified as an American citizen or resident, there may be no option other than to use an EIN that has been assigned to a foreign corporation.
Do Both Members of an LLC Need an EIN?
Both limited liability company members must have an EIN to comply with IRS regulations.
However, if a member has a sole proprietorship, they can use the SSN assigned to them for business and personal purposes as long as it is not used fraudulently.
What Is the Difference Between a Federal Tax Identification Number and a Social Security Number?
If you hire employees, you will need to apply for an Employer Identification Number (EIN) through filing Form SS-4.
An EIN is a tax identification number for your business that identifies your business to the Internal Revenue Service.
It is different from a Social Security number, which is an identification number that you use for your personal taxes.
What Is the Difference Between a Personal Ein and a Business EIN?
A person can have only one SSN but can obtain as many individual Employer Identification Numbers (EINs) as needed for businesses they own.
However, if you plan on operating as a sole proprietor and using your SSN as your EIN (which may or may not be okay, depending on the state where you live), make sure you understand the implications if it's later found out that you used your Social Security number after all.
What Are the Benefits of Having an EIN?
An employer's EIN serves as your company's identification number for tax purposes. With it, you can open a business bank account and obtain business credit cards, among other services.
The new EIN must be filed with any federal, state, or local tax returns that the business is required to file. It also serves as proof that your company is in good standing with the IRS.
How to Fill out IRS Form SS-4: Conclusion
An EIN is an IRS-issued identification number that all US employers are required to use when filing federal tax returns.
Applying for this type of identification can be completed by applying for the IRS Form SS 4 online and filling out the form provided through the site.
If you need further help on what tax forms your LLC needs to file, you can consult with a law firm or an experienced tax attorney for more legal or tax advice.