If you want to incorporate a business online, you've probably seen a plethora of business formation services available to assist you.
With millions of customers served, Rocket Lawyer is one of the most popular firms in this field, and it wasn't before long that they popped up on our radar.
In this Rocket Lawyer review, we'll tell you whether or not using this service is worthwhile based on its pricing, features, and other essential factors that influence LLC formation.
What Is Rocket Lawyer?
Rocket Lawyer is an online legal offering service that has been in business since 2008. Beyond aid with LLC creation, Rocket Lawyer also provides a wide range of reasonably priced business and legal services for proprietors of small businesses.
Rocket Lawyer provides a sample selection of online legal documents and other top-notch legal services from qualified lawyers.
Once you pay their membership fee, you get access to their online legal service and receive accurate legal advice from skilled attorneys.
Non-subscribers can partially access Rocket Lawyer's legal services, such as LLC formation filings.
Therefore, it's good that you can still utilize Rocket Lawyer to create an LLC, even if you don't want to pay for a membership for extra legal services.
Service Features & Prices
Rocket Lawyer's price differs from that of typical LLC formation providers because it is more of a subscription service. Rocket Lawyer provides two separate pricing for business formation services: one for subscribers and one for non-subscribers.
Here's a detailed description.
Premium Subscriber Costs
Rocket Lawyer's monthly premium membership is $39.99. They provide a free one-week trial, but if you don't cancel it, the trial automatically turns into a monthly membership.
There is no extra cost for the first LLC you create with Rocket Lawyer if you have a membership. Subscribers also, of course, get access to all the other legal services that Rocket Lawyer provides.
You may incorporate several LLCs for a 25% discount with Rocket Lawyer as long as you subscribe. Therefore, it will cost you $74.99 in addition to the state charge to create a second LLC in the future via Rocket Lawyer.
Non-Subscriber Costs
The basic Rocket Lawyer LLC establishment service will cost $99.99 if you're not a subscriber. None of the extra upsell products or Rocket Lawyer's other online legal services are available in this package.
We also didn't like that we still needed to pay state filing fees in addition to the $99.99 LLC formation filing cost.
Ein Acquisition
When ordering an LLC creation, you can have Rocket Lawyer handle your EIN acquisition process for $59.99.
In our opinion, it's a bit too steep, paying $59.99 to Rocket Lawyer for this service when it's free and fairly easy to do on the IRS website.
Corporate Kit
A corporate kit is another offered upsell by Rocket Lawyer when forming an LLC.
This kit, which costs $99.99, comes with personalized binders, membership certificates, corporate seals, and generic company forms.
We didn't deem this necessary because none of it is essential to run an LLC. Additionally, just the paperwork and accessories are included in the business kit; no attorney services are.
C-Corp Registration: $39.99/month for members, $99.99 for non-members

S-Corp Registration: $39.99/month for members, $99.99 for non-members

Nonprofit Registration: $39.99/month for members, $99.99 for non-members

Articles of Amendment: $119.95 + state fees

Articles of Dissolution: varies by state

Rocket Tax:

personal tax ($199.99), self-employed ($399.99), and business entity ($499.99). 50% discount for premium members

Trademark Registration:

$699.99 for non-members and $349.99 for premium members, plus USPTO)

Doing Business As (DBA): $99 plus state fees

Free Rocket Document Signing tool
Benefits
Here are some great benefits of using Rocket Lawyer's service:
1. Faster Turnaround
The response time at Rocket Lawyer is swift. According to most Rocket Lawyer user reviews, the state received the legal documents within two business days after Rocket Lawyer submitted them.
If your state allows for accelerated processing, Rocket Lawyer provides fast turnaround times per those state guidelines. Note that these accelerated processing times change from one state to another.
However, the major downside to this is the extra costs incurred. In addition to their administrative fee, Rocket Lawyer will charge you the additional price that your state levies for accelerated processing and pass it along to you.
2. Ease of Use
The clarity of the material on Rocket Lawyer's website is one of the main advantages of utilizing them to create an LLC for your company. In contrast to other LLC creation businesses, we found Rocket Lawyer LLC's website far more plain and easy to navigate.
Many of Rocket Lawyer's rivals' websites use ambiguous and jargon terminology, particularly when it comes to their services. On the other hand, Rocket Lawyer aims to simplify legal assistance and business creation.
We appreciate that we didn't need to search out the small print to understand what Rocket Lawyer charges for their LLC or registered agent services.
3. Excellent Customer Service
Yes, Rocket Lawyer provides excellent customer phone service. We were impressed by the competence and politeness of their customer service professionals when we called them.
The only flaw in Rocket Lawyer's client service was their online chat option.
When you access the online chat, a knowledge base rather than a customer support agent is the first thing you see. Apart from that, we were pleased with Rocket Lawyer's client service.
4. Money-back Guarantee Policy
Another great selling point for Rocket Lawyer is their reliable refund policies. Within 60 days of your purchase, Rocket Lawyer will fully reimburse you if you decide to discontinue or are unsatisfied with your membership.
Downsides
Despite Rocket Lawyer being one of the best LLC services in the US, here are some downsides you may experience with them.
1. Auto Subscription
Our main complaint with Rocket Lawyer is that to sign up for a free 7-day trial, we had to enter our credit card information.
You must understand that if you enroll for the free trial, it will automatically renew as a full membership at the end, costing $39.99 for the first month.
We recommend that you should terminate the trial before it expires to avoid being charged, especially if you don't intend to use the service long-term.
2. Limited Access
Another thing we found a bit challenging is their terms of the seven-day free trial. Their website indicates that this free trial provides the same level of access to Rocket Lawyer's services as full membership.
However, the truth is that Rocket Lawyer's free trial only gives you partial access to their legal services and materials.
The free trial does not provide a free LLC creation. Again, only three legal documents can be downloaded for free during the trial, and it doesn't include document defense.
Also, note that the attorney services for the free seven-day trial allow you to ask only one legal question.
Who Should Hire Rocket Lawyer?
Clients that want legal paperwork and continuous legal assistance should hire Rocket Lawyer.
We recommend Rocket Lawyer for business owners who:
Require continuing legal counsel after the creation of the LLC, among other services.
Expect or desire to routinely seek answers to their legal questions from a lawyer.
Concerned about enforcing their legal-business obligations.
Lack experience in drafting a legal document and would need document defense services.
Want to manage the majority of their custom legal documents in one location.
Have better business bureau goals that include utilizing patents or copyrights to safeguard intellectual property.
We recommend Rocket Lawyer because each of their LLC-related models is backed by a team of legal experts that have our complete confidence.
Other User Testimonials
Let's see what other users have to say about Rocket Lawyer.
"I experienced issues navigating the Rocket Lawyer website, but after calling their support, I was directed accordingly."
- Matt, Houston
"It was speedy and easy to create my legal forms without the hassle of going to the office."
- Christy, Atlanta 
"Creating and signing an NDA was quite easy, but I don't appreciate the automatic membership fee."
- Tom, Colorado 
Comparison To 3 Other Services
In this section, we'll be comparing Rocket Lawyer to three of its rivals.
1. ZenBusiness
ZenBusiness has three packages for the creation of a limited liability company that is billed annually.
But with Rocket Lawyer, you'll pay a monthly premium membership fee to access extra services.
ZenBusiness also offers extra information on the business, finances, and taxes without any auto subscription or credit card details [1].
With customer service, ZenBusiness offers six days of customer service, unlike five days for Rocket Lawyer.
2. Northwest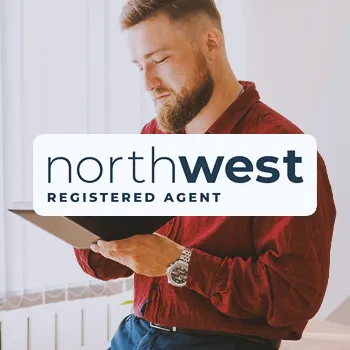 Both of these services cover the fundamentals of formation. Still, the key distinction is that Northwest Registered Agent includes 12 months of quality registered agent service, whereas Rocket Lawyer LLC registration offers this as an add-on.
Rocket Lawyer and Northwest registered agents are primarily comparable in terms of business services. Both provide services, including registered agents, LLC operating agreements, certified copies, and more.
However, Northwest is for businesses searching for a basic formation service, while Rocket Lawyer is a solid alternative for companies seeking continuing legal support.
3. IncFile
While Incfile registered agent service occasionally has more affordable prices, Rocket Lawyer offers quicker turnaround times in legal forms delivery and a more helpful customer care team.
In addition, prominent user review websites provide Rocket Lawyer's incorporation service with much more positive reviews than Incfile.
FAQs
No, Rocket Lawyer is not free. They have a premium membership plan going for $39.99 monthly.
Is Rocket Lawyer Legitimate?
Yes, Rocket Lawyer is legitimate. They've been in business since 2008 and have served millions of customers.
Is Rocket Lawyer Worth It?
Rocket Lawyer is one of the top LLC services for incorporating your US business online. However, if you decide to remain a non-member and pay for LLC formation and registered agent services separately, Rocket Lawyer may get quite expensive.
If you don't require further legal documents or the services of a lawyer, you could be better off using another LLC service like ZenBusiness.
For starters, ZenBusiness tops Rocket Lawyer because they have a starter LLC package costing $0.
Plus, setting up a business with ZenBusiness is a breeze: you only need to select a package and give your credentials once, and they'll take it from there.
And if you have any questions, you can bank on their outstanding customer service for a timely response.
Our #1 Recommendation
ZenBusiness
Pros
They offer various formation packages to choose from
The prices of each packages are reasonable
They provide a worry-free compliance
They make business formation as quickly as possible
Has a lot of positive customer's feedback
Get the BEST PRICE until the end of March